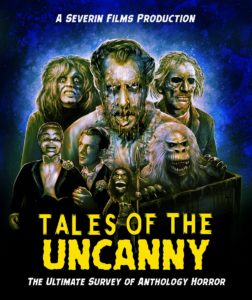 David Gregory, USA 2020, 100 minutes
Produced by David Gregory and Kier-La Janisse

What began as a modest Bonus Feature for the Special Edition Blu-ray of THE THEATRE BIZARRE became – when Covid hit – an international Zoom-enabled feature-length documentary on the evolution, challenges and all-time Top 5 greatest anthologies – and segments – in horror. 
Severin Films chief David Gregory and House Of Psychotic Women author Kier-La Janisse query a global roster of more than 60 horror writers, directors and scholars that include Eli Roth, Joe Dante, Mark Hartley, Mick Garris, Ernest Dickerson, Joko Anwar, Ramsey Campbell, David DeCoteau, Kim Newman, Jovanka Vuckovic, Luigi Cozzi, Tom Savini, Jenn Wexler, Larry Fessenden, Richard Stanley, Brian Trenchard-Smith, Brian Yuzna, Gary Sherman, Rebekah McKendry and Peter Strickland in a candid discussion of the very best portmanteaus in fright film/TV history.
The film leads us from the very first examples of the anthology film in early cinema, right up to the present day – without forgetting of course the endearing impact that the likes of Vincent Price and Peter Cushing had in creating some of the most memorable classic films ever made.   
"Finally, a movie made during COVID that doesn't feel the weight of the pandemic on its shoulders. Initially produced as a bonus Blu-ray feature for the 2011 horror anthology film The Theatre Bizarre, Tales of the Uncanny turned into an international Zoom-a-thon of genre experts gabbing about their love of the horror canon. Eli Roth, Joe Dante, Tom Savini, Jenn Wexler and a murderer's row of murderer's aficionados participate in the fast-moving fun, a must for any horror fan." – Barry Hertz, Globe & Mail
Winner: Best Feature, Abertoir Horror Festival 2020; Runner-up:  Best Feature, Popcorn Frights Horror Festival 2020
For bookings contact Nicole Mikuzis at Severin Films: nicole@severin-films.com
PRESS:
Winnipeg Free Press: https://www.winnipegfreepress.com/arts-and-life/entertainment/movies/monsters-madmen-and-mutants-all-in-one-movie-573176661.html
Rue Morgue: https://rue-morgue.com/severin-films-drops-trailer-for-tales-of-the-uncanny/
Nightmare on Film Street: https://nofspodcast.com/review-tales-of-the-uncanny-is-a-love-letter-to-horror-anthologies-and-their-fans 
Screen-Space: http://screen-space.squarespace.com/reviews/2020/12/2/tales-of-the-uncanny.html?fbclid=IwAR1OoLNDOmZd2GCOANf8zGwejv5gJPGSRET-62kflKXpvlCrdbFnwSED1KI
Coming Soon: https://www.comingsoon.net/movies/trailers/1155432-severin-films-unveils-tales-of-the-uncanny-documentary-trailer
Horror Nerd Online: https://horrornerdonline.com/post/635174333130719233/tales-of-the-uncanny-official-trailer-horror