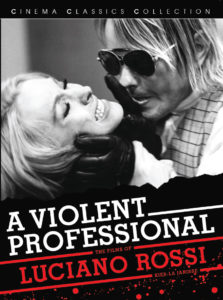 Written by Kier-La Janisse
FAB Press, 2007
128 Pages, full colour
"Luciano Rossi is one of the most identifiable and yet little known faces in Italian genre cinema. Kier-La Janisse's book is invaluable, both for its focus on Rossi, and for the fascinating journey it takes us through the changing landscape of Italian popular cinema." – Pete Tombs, Immoral Tales
Italian cinema's tough-guy specialist explodes into action. A must-have for fans of '70s macho cinema! A Violent Professional is Volume 3 of the new Cinema Classics Collection from FAB Press. With nearly seventy films under his belt, almost exclusively in the colourful, controversial and eye-catching realm of Italian exploitation, character actor Luciano Rossi (1934-2005) remains one of Italian cinema's unsung heroes. But while always memorable, until now he has existed only as a footnote in most Italian-focused film criticism, even in the work of ardent fans of the exploitation genre. By luck or judgement, Rossi made appearances in many of the greatest low-budget films ever to come out of Italy, working in all the popular genres, from spaghetti westerns, mafia shockers and horror films to cop thrillers, sexploitation, and every conceivable brand of bizarre Euro exploitation. One would be hard-pressed to find a fan of spaghetti westerns or 1970s Italian crime films who isn't immediately gratified by Rossi's presence in any given film. Rossi gets brutalized more regularly and more spectacularly than any of his supporting counterparts, whether it's at the flaming fists of Maurizio Merli or via blowtorch to the nether regions courtesy of Klaus Kinski – and he deals it as furiously as he takes it. A Violent Professional is the first book to fully examine the career of Luciano Rossi – complete with a brief biography and first-hand reviews of all of his known film roles – and stands proudly as a long-awaited appraisal of this dynamic actor's immeasurable contribution to Italian cinema.
This stunningly designed full-colour book is an absolute feast for the senses; hundreds of ultra-rare posters, pressbooks, stills and artwork have been put together to form an innovative and eye-opening package oozing with style, and every bit as dramatic as the classic films discussed in its pages.
"Kier-La Janisse, the first lady of euro-trash, has put together THE definitive work on Luciano Rossi. Ms. Janisse captures his mercurial oddness in text and pictures as only someone devoted to art and trash could." – Craig Ledbetter, European Trash Cinema
Cover and design by Rob Jones at Animal Rummy/Mondo.